Pesto Zucchini Noodles with Chicken
Zucchini noodles are all the rage with healthy eaters, and it's no wonder why. They are ultra-low in calories and carbs, and they make a great stand-in for pasta. Sometimes called "zoodles," zucchini noodles can be made with a vegetable peeler, a mandolin, or a Spiralizer. Their pasta-like texture is a perfect base for all sorts of sauces and toppings and they don't get soggy like pasta does, so they are great for meal prep. Cook them gently and they'll stay al dente until you're ready to eat them.
In this recipe, the noodles are topped with pesto sauce, sautéed mushrooms with garlic, and tender slices of chicken breast. For those using the 21 Day Fix containers, this recipe is 1½ green, 1 red, and 1½ teaspoons.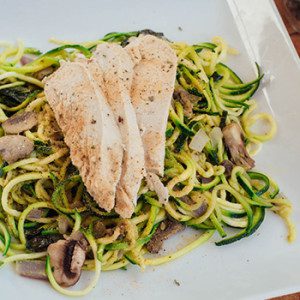 Ingredients:
1 tsp.

olive oil

½ medium

red onion, chopped

2 cloves

garlic, finely chopped

1 cup

sliced mushrooms

4 fresh

basil leaves, finely chopped

2 medium

zucchini

1 tbsp.

basil pesto sauce

6 oz. cooked

chicken breast, boneless, skinless, sliced, warm
Instructions
Here are your instructions:
Heat oil in medium saucepan over medium-high heat.

Add onion; cook, stirring frequently, for 3 to 5 minutes, or until onion is translucent.

Add garlic; cook, stirring frequently, for 1 minute.

Add mushrooms and basil; cook, stirring frequently, for 3 to 5 minutes, or until mushrooms release liquid. Set aside.

Using a vegetable peeler, cut each zucchini into lengthwise strips about ⅛ inch thick. Turn zucchini slightly after cutting each strip to work evenly around the outside, stopping when you hit the seeds at the core. Discard cores. Cut slices lengthwise into ½- inch ribbons. Set aside.

Add zucchini to onion mixture; cook over medium-high heat, stirring frequently, for 2 to 4 minutes, or until heated through.

Add pesto; mix well.

Evenly divide zucchini mixture between two serving plates; evenly top with chicken.
Comments
comments